Past Productions
The Doctor Will See You Now
by John Patric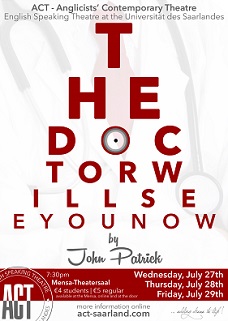 "The Doctor Will See You Now" was written by John Patrick in 1991. It's a collection of four one-act plays, each a doctor's appointment with a different doctor every time. There is the hypochondriac physician whose patient ends up diagnosing him, the psychiatrist who seems to be able to explain everything with psychoanalysis, the no-nonsense gynecologist who has to deal with an obviously pregnant patient who thinks it might only be gas, and the sex-crazed chiropodist with a foot-fetish."
Things My Mother Taught Me
by Katherine DiSavino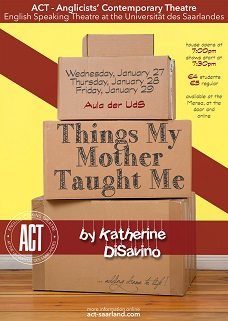 "Things My Mother Taught Me" was written in 2013 by young American playwright Katherine DiSavino. It's about a young couple, Gabe and Olivia, who move to Chicago into their first shared apartment. They have been together for seven years and are now taking the next step in their relationship. Gabe secretly invited all the parents to help them move in (or so he says), but really, he wants to propose to Olivia with their families there to witness it. That, however, is made very difficult by their parents and the fact that the moving van with all their belongings inside (including the insanely expensive engagement ring) is stolen. All in all not a move how Olivia and Gabe imagined it. A wonderful comedy about parents who have to deal with their children growing up and becoming adults, and about grown-up adults who become small children again when confronted by their parents.
A Bad Year for Tomatoes
By John Patrick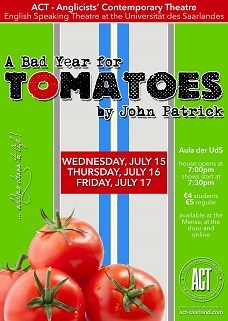 "A Bad Year for Tomatoes" is a comedy written in 1974 by American playwright and Pulitzer Prize winner John Patrick. It's about a famous actress (Myra Marlowe), who wants to escape the Hollywood glamour world in order to get some peace and quiet and write her memoirs. Once she moves to New England, she quickly realizes that it's not as easy as she thought to get some alone-time in her new house. Her neighbors keep annoying her all the time. In an attempt to scare them away, she invents a violent and mentally unstable twin sister (Sadie), who doesn't like visitors in the house. Unfortunately, Myra's plan backfires when her neighbors offer to help her with Sadie. One of them even falls in love with her. So Myra decides to "get rid" of her sister by having her move to Boston. A decision with unfortunate consequences as you'll find out …
---
Love Letters
By A.R. Gurney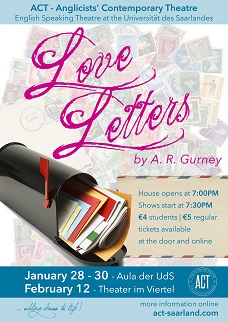 Love Letters by A.R. Gurney is a love story between Melissa Gardner and Andrew Makepeace Ladd III as told through their letters to each other over the course of nearly 50 years. They go through their childhoods with thank you notes and birthday party and dance hall invitations; keep up with each other through college, early love affairs, and their travels; announce their weddings and births of their children and chart the rises and falls of their careers: Melissa is an artist and Andrew becomes a politician. Together they weather the highs and lows of life coming to a passionate conclusion.
---
Talking With...
By Jane Martin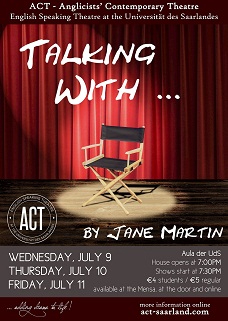 ACT's current show features eleven eccentric characters who talk about their lives in monologues entitled: Fifteen Minutes, Scraps, Clear Glass Marbles, Audition, Rodeo, Twirler, Lamps, Handler, Dragons, French Fries, and Marks. The characters, a wide range of people from all walks of life, include a fading rodeo star; a snake handler; one aspiring actor and one working actor; a fantasizing housewife; a baton-twirler; and more. Some characters have been touched by life (Dragons) and others by death (Clear Glass Marbles). Come and see some of the strangest and most interesting people you'll ever meet!
---
Steel Magnolias
By Robert Harling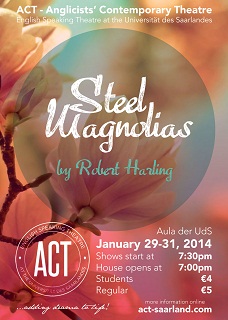 The action is set in Truvy's beauty salon in Chinquapin, Louisiana, where all the ladies who are "anybody" come to have their hair done. Helped by her eager new assistant, Annelle (who is not sure whether or not she is still married), the outspoken, wise-cracking Truvy dispenses shampoos and free advice to the town's rich curmudgeon, Ouiser, ("I'm not crazy, I've just been in a bad mood for forty years"); an eccentric millionaire, Miss Clairee, who has a raging sweet tooth; and the local social leader, M'Lynn, whose daughter, Shelby (the prettiest girl in town), is about to marry a "good ole boy." Filled with hilarious repartee and not a few acerbic but humorously revealing verbal collisions, the play moves toward tragedy when, in the second act, the spunky Shelby (who is a diabetic) risks pregnancy and forfeits her life. The sudden realization of their mortality affects the others, but also draws on the underlying strength—and love—which give the play, and its characters, the special quality to make them truly touching, funny and marvelously amiable company in good times and bad.
---
Say Goodnight, Gracie
By Ralph Pape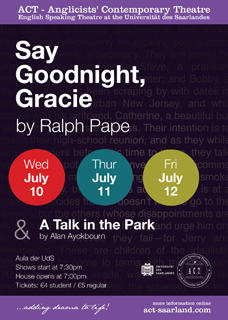 "Talk in the Park" by Alan Ayckbourn
In a short scene, five strangers are sitting in a park, each absorbed in their own problems. Each one becomes an enthusiastic complainer and a reluctant listener in turn.
"Say Goodnight, Gracie" by Ralph Pape
In New York in 1976, a group of old friends are getting ready to go to their ten-year high school reunion. They reflect on what they wanted to be and what they have become as adults. They are children of the idealistic 60s, unable to come to terms with the uncertain 70s and trying to evade the truth that haunts them all--that there are no simple answers.
---
Twelve Angry Jurors
By Reginald Rose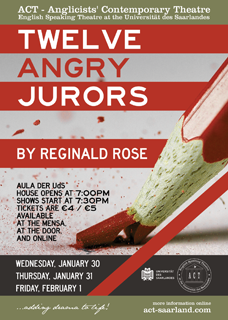 A 16-year-old has just stood trial for the fatal stabbing of his father. It looks like an open-and-shut case-until one of the jurors begins opening the others' eyes to the facts.
As the discussion goes on, it goes beyond just the facts into the personal views of the jurors, with each juror revealing their own characters as the various testimonies are re-examined.
Tempers get short, arguments grow heated, and they become TWELVE ANGRY JURORS.
---
Almost, Maine
By John Cariani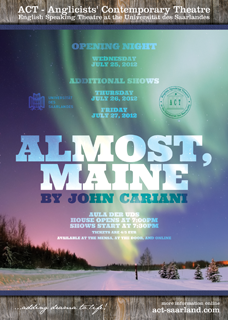 On a cold, clear, moonless night in the middle of winter, all is not quite what it seems in the remote, mythical town of Almost, Maine.
As the northern lights hover in the star-filled sky above, Almost's residents find themselves falling in and out of love in unexpected and often hilarious ways. Knees are bruised. Hearts are broken.
But the bruises heal, and the hearts mend—almost—in this delightful midwinter night's dream.
"…a whimsical approach to the joys and perils of romance. Magical happenings bloom beneath the snowdrifts"

--New York Times

"A comic romantic roundelay"

--The Wall Street Journal
---
Stones in His Pockets
By Marie Jones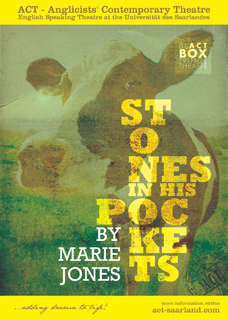 Ireland.
The Southwest.
Somewhere in County Kerry.
A Hollywood film team has recently descended on a small picturesque town to shoot "The Quiet Valley," a historical romance. Many locals have been cast as extras for £40 a day; among them cheerful Charlie Conlon and jovial Jake Quinn.
The film team is eager to create an authentic Irish atmosphere involving dramatic turf-digging chores, horseback-riding heroes, and a coquettish celebrity actress.
As the story unfolds, our two performers transform themselves into a wide range of supporting characters. From superficial production assistants to money-grubbing villagers. The mood is suddenly darkened by the news that young Sean Harkin has drowned himself; his pockets full of stones.
Dramatis personae

Meike Pälmke as

CHARLIE CONLON, a local extra, an outsider from Ballycastle in Northern Island
SIMON, first assistant director, takes a stern approach to dealing with extras
CAROLINE GIOVANNI, lead actress in "The Quiet Valley"
FIN, Sean's childhood friend, now a teenager
BROTHER GERARD, Sean's old teacher
CLEM, director of "The Quiet Valley"
JOCK CAMPBELL, Caroline's bodyguard
MISTER HARKIN, Sean's father

Achim Loch as

JAKE QUINN, a local from Kerry who has recently returned from the United States
AISLING, third assistant director, always short with the extras
MICKEY, a local celebrity, last remaining extra of the famous 1952 film "The Quiet Man"
JOHN, Caroline Giovanni's dialect coach
SEAN, a dejected teenage drug addict
DAVE, a technician on set, also a coke dealer for the rest of the crew
an INTERVIEWER for RTÉ (Raidió Teilifís Éireann, Radio and Television of Ireland)
"An unequivocal source of joy, laughter, tears and delight"

--The Daily Mail

"Fascinating, moving and hysterically funny"

--The Independent
---
Isn't it Romantic
By Wendy Wasserstein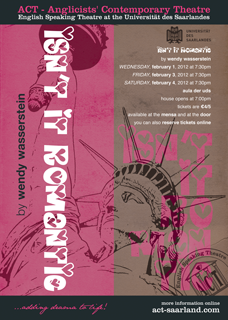 The play deals with the post-college careers (and dilemmas) of two former classmates, a would-be writer named Janie Blumberg, and her friend, Harriet Cornwall. Both are struggling to escape from lingering parental domination and to establish their own lives and identities. In Janie's case this leads to an inconclusive involvement with a young doctor who calls her "Monkey"; while Harriet assails the world of big business and has an affair with her hard-driving (and married) boss.
Told in a fast-moving series of inventive, alternately hilarious and touchingly revealing scenes, the play explores their parallel stories with uncommon wit and wisdom—resulting, ultimately, in a heightened awareness which, while not providing all the answers, goes a long way toward achieving the maturity and self-assuredness that both protagonists so desperately desire.
Watch our trailer:
"…among the funniest and most inventive writers around…"

--The New Yorker

"…a nouvelle cuisine comedy."

--The New York Times
---
Enigma Variations
By David Ives
ACT proudly presents Enigma Variations, by David Ives. This evening of scenes is filled with mystery, murder, mayhem, medicine, and… mayflies. Yes, mayflies!
Dr. Fritz
An American tourist in need of medical attention goes to a gift shop and gets more than he bargained for when a crazed German doctor recommends surgery.
Mystery at Twicknam Vicarage
Jeremy Thumpington-Fffienes is dead as a doornail but the bumbling detective and his three unsuspecting suspects are closer to solving crimes of philosophy than the murder.
Arabian Nights
Perfectly normal Norman is searching for a perfectly normal souvenir when he meets perfectly normal Flora. An out of the ordinary interpreter is determined to make sure their passionate romance is not lost in translation.
Time Flies
Tragic revelations turn the ordinary lives of two young mayflies head over wings as they watch a documentary featuring the renowned voice of British naturalist David Attenborough.
Enigma Variations
Bebe W.W. Doppelgänger questions her identity and seeks counseling from William W. Williams and his nurse Fifi, who might be Aphrodite, Goddess of Love - or not.
Degas, C'est Moi*
One morning a man wakes up and decides: "I am Degas." What place other than the wondrous city of New York could he have chosen to fill his canvasses?
*not included in the GrAFiTi festival program
"[C]omedies that embrace the little guy — or, in the case of the first playlet, the little fly."

--The New York Times
---
Shakespeare in Hollywood
By Ken Ludwig
ACT proudly presents a new production
full of sorcery, serendipity, and slapstick.
Lights! Camera! Abracadabra!
ACT is bringing magic back to Old Hollywood with Shakespeare in Hollywood by the modern master of farce, Ken Ludwig. Originally commissioned by The Royal Shakespeare Company, Shakespeare in Hollywood premiered at the Arena Stage in Washington, DC.
Thanks to the marvels of fairy magic, Shakespeare's mischievous duo Oberon and Puck are unwittingly transported to the set of Max Reinhardt's Hollywood blockbuster production of A Midsummer Night's Dream.
The pair is left to wander the streets of Hollywood, fall in love with its glitz and glam and wreak havoc at every turn. No star or starlet is safe from their hijinks and no movie set has ever been hit with so much fairy dust.
From divas and ingénues to flowers that pack a punch, Shakespeare in Hollywood promises to have you laughing from "Action!"
Watch our SiH Mockumentary trailer:
---
All in the Timing
By David Ives
ACT is back- with five thoughtful and hilarious modern comedies by the new yorker playwright David Ives. Join us again for a fun-filled Evening of Scenes featuring philosophical monkeys, laughable languages, ridiculous revolutionaries, cheese steak sandwiches, and some serious romance.
Philadelphia
Al and Mark are stuck in a "Philadelphia"--a world where in order to get what you want, you have to ask for the opposite. Their orders are taken, and sometimes filled, by a weary waitress.
Sure Thing
Bill and Betty are star crossed lovers whose chance encounter covers everything from dating don'ts to saying "I do."
The Universal Language
Dawn has a terrible stutter. Don has a money-making scheme involving a universal language that is guaranteed to cure a stutter. Will Dawn fall for the scam or for Don?
Variations on the Death of Trotsky
Trotsky meets his earthly demise in eight different ways, each with a revolutionary flair that only Trotsky himself could pull off.
Words, Words, Words
Three little monkeys are given typewriters to use while scientists watch, waiting for one of the monkeys to start typing Hamlet.
"Theater that aerobicizes the brain and tickles the heart ... Ives is a mordant comic who has put the play back in playwright."

Time
---
The Importance of Being Earnest
By Oscar Wilde
Life couldn't possibly be more boring or decadent for Algernon Montcrieff and his best friend Jack Worthing. Both gentlemen are rich, educated, handsome... and avoid responsibility whenever possible.
Algernon flees to the country and Jack escapes to the city whenever either catches wind of a possible impending duty. Cecily, Jack's precocious ward in the country, believes that Jack is looking after his younger, reckless, (and imaginary!) brother Ernest—the name he uses while in London. Jack wishes to marry the city girl of his dreams, Gwendolen, but is heartbroken when he learns that she could only love a man named Ernest. To make matters worse, Gwendolen's battleaxe of a mother, Lady Bracknell, refuses to give her consent to the marriage because Jack is an orphan.
Meanwhile, Algernon is quite intrigued by Cecily and travels to the countryside pretending to be Ernest, Jack's irresponsible brother. Much to Algernon's delight, Cecily instantly falls head over heels for the man she has heard so much about for years. When Jack returns to the country estate, mourning the sudden tragic death of his brother Ernest, chaos ensues. The gentlemen's lies pile up as fast as the laughs as Cecily and Gwendolen discover they are both engaged to "Ernest." This classic comedy by Oscar Wilde promises to have you laughing from start to finish!
---
An Evening of Scenes
Works by Jon Jory, Cathy Celesia, Jason Katims, Mary Miller, Lynn Nottage, and Matt Pelfrey
After last year's incredibly successful performance of Agatha Christie's The Mousetrap, ACT is thrilled to be adding an extra production to the 2008/2009 season--the first ever An Evening of Scenes.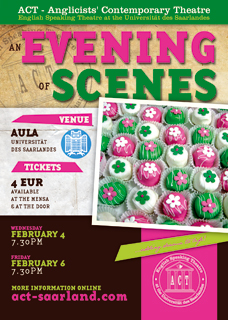 This eclectic mix of comedy, drama, and romance promises to have something for everyone. From falling in and out of love, surviving graduation and marriage, hooking up and checking out, to ass cancer and acrophobia, An Evening of Scenes will certainly tickle your funny bone and pull at your heartstrings.
An Evening of Scenes features works by Jon Jory, Cathy Celesia, Jason Katims, Mary Miller, Lynn Nottage, and Matt Pelfrey.
---
The Mousetrap
By Agatha Christie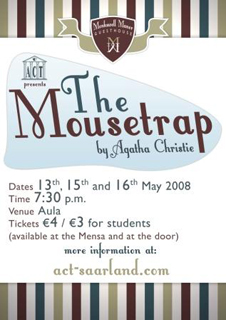 Giles and Mollie Ralston have just opened Monkswell Manor Guesthouse. The rugs have been swept, the provisions bought, the firewood stacked, and the rooms prepared. No amount of planning, however, could prepare the Ralstons for their unusual guests and the blizzard which promises to strand all of the travellers at the manor. Nearby a woman is murdered and the murderer is believed to be on the way to Monkswell Manor, bent on revenge. Tensions build and accusations fly as a sergeant arrives at the manor on skis. Now everyone's safety is in the hands of the lone sergeant who must determine the identity of the murderer, before it is too late.
---
The Real Inspector Hound
By Tom Stoppard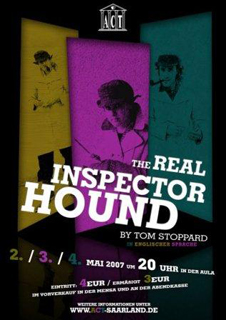 The Real Inspector Hound is a short, one-act play by Tom Stoppard. The plot follows two theatre critics named Moon and Birdboot who are watching a ludicrous setup of a country house murder mystery, in the style of a whodunit. By chance, they become involved in the action causing a series of events that parallel the play they are watching.
The play was written between 1961 and 1962, initially named The Stand-ins and later, The Critics. It is a parody of the stereotypical parlor mystery in the style of Agatha Christie's The Mousetrap, as well as of the critics watching the play, with their personal desires and obsessions interwoven into their bombastic and pompous reviews. Stoppard's play references The Mousetrap in its title and its "surprise ending"; the producers of Agatha Christie's play could not publicly object to Stoppard's parody without drawing attention to what they very much wanted to conceal about the conclusion of The Mousetrap.
The Real Inspector Hound, much like Stoppard's earlier play Rosencrantz & Guildenstern Are Dead, examines the ideas of fate and free will, as well as exploring the themes of the 'play within a play'. (Source )
Press Reviews
* SZ: Saarbrücker Zeitung