Cast & Crew
Sophian Guidara
Central Detective-Inspector Bliss
Hailing from the magical kingdom of Canadia, Sophian decided to come to Saarbrücken to pursue an MSc in Bioinformatics. An avid fan of the stage, he has played numerous roles in his life, from a chess piece in an elementary school play, to the Devil in the latest production of Saarland University's Spanish theatre group Los Mutantes. "The Ringer" will be Sophian's first production with ACT.
---
Meike Pälmke
Divisional Detective-Inspector Wembury
Meike is from Duisburg. She has finished her degree in Psychology and a doctorate in Medical Sciences and now works in her own practice for child and adolescent psychotherapy in Saarbrücken. Meike has been active in theatre groups for many years. Some of her favorite roles include Puck in A Midsummer Night's Dream, a part she resumed in Shakespeare in Hollywood, and playing Charlie Conlon plus seven other characters all at once in Stones in His Pockets. She would like to thank her husband and ACT for being the best pastime imaginable. This is Meike's thirteenth production with ACT.
---
Christian Faber
Colonel Walford / Lights / Website
Christian is from Haltern am See in North Rhine-Westphalia and he is studying Computer Sciences at the university while founding a company to find and support language tandems. Having made his debut in "Almost, Maine", Christian played Juror #6 in "Twelve Angry Jurors", Bobby in "Say Goodnight, Gracie", Lamps in "Talking With…", the sheriff in "A Bad Year For Tomatoes" and Carter Keegan in "Things My Mother Taught Me". He is now looking forward to his tenth play with ACT.
---
Amirhossein Baradaran Shahroudi
Samuel Hackitt
Amir was born and raised in Iran. He came to Saarbrücken to do his Master's Degree in Computer Sciences at Saarland University. He is a movie addict and used to be an English teacher back home. He has always been very enthusiastic about acting. This is Amir's third production with ACT and he loves spending time with this group of lovely people.
---
Michael Hafner
Maurice Meister
Michael was born and raised in Saarlouis. He is currently studying translation, English and French at Saarland University. His first role in a play with ACT was the hypochondriacal physician in last semester's "The Doctor Will See You Now." His stage experience before that comprised mainly of choir performances and a few theatrical appearances in earlier years. Since the last time working with this fantastic cast and crew was really a blast, he is very much looking forward to being on stage with them again.
---
Silke von Sehlen
Cora Ann Milton
Silke is from Saarbrücken, has a PhD in Comparative Literature and works at an EU research and project management office. Although she acted in primary school and a bit in high school, it was her time with the Tower Players at Hillsdale College, Michigan, that sparked her interest in the stage again. You may remember her from numerous appearances on the ACT stage, most recently as Goldie Popodopulous and the Gynecologist's Nurse in "The Doctor Will See You Now". Her favorite part is Lydia Lansing in "Shakespeare in Hollywood" (ask her to recite Shakespeare backwards … really … do!). Silke is thrilled to be back on the ACT stage again and to work with all these wonderful and talented people. This is her fifteenth production with ACT.
---
Saskia Riedel
Mary Lenley / Mrs. Hackitt
When Saskia thinks about Saarbrücken the first thing coming to her mind is coincidence. She didn't plan to do her master studies here and neither did she think about Saarbrücken as her future homebase. Saskia studied museology, economics and art history at the University in Würzburg. There, she's been an active member of the English Drama Group and was part of seven productions. Acting has always been a thrill for her, so she wanted to continue in Saarbrücken. Her first production with ACT was "Things My Mother Taught Me" and she loved the dynamical group. Up next is Edgar Wallace's "The Ringer" and she can't wait to bring fear and fury to the stage.
---
Andreas Widenka
John Lenley
Andreas came from the astonishing Lower Saxony to the Saarland to study mathematics. Well, that is his hobby now... This is Andreas' fourth production with ACT and still he continues to enjoy the time he spends with all these wonderful people. Although he came to ACT as an enemy (from ThUniS), he now fully commits to the cause of awesome English speaking theatre.
---
Tobias Ebelshäuser
Station-Sergeant Carter
Tobias comes from the wonderfully grey city of Neunkirchen. He's currently studying English and History at Saarland University. Due to his passion for photography and videography, as well as his pleasure in writing, Tobias is trying to enter the vast world of journalism. After winning ACT's award for 'most obnoxious douchebag on stage' last season, he is very excited to join the ranks of this amazing group once again this winter!
---
Manav Agarwal
PC Field
Manav grew up in the foothills of Himalyas in Northern India and studied Aerospace Engineering in India, Canada and France. He currently works in Management sector in Saarbrucken. Having a strong interest in Theatre, He took part in several plays in Hindi, English and German. His performance in German classic "Die Niebelungen" (2010) in University of Toronto, German Theatre Society, Canada was his memorable experience. European languages motivated him to explore Europe in past 5 years and learn cultures and languages namely French, German, Italian and Spanish.
---
Christoph Otto
Detective Brown
A true Renaissance man of the 21st century, Christoph Otto was inspired by his renewed faith in God to explore the hidden corners of his multifaceted personality. Theatre was brought to him in his early years when he witnessed his father take on the role of Bustopher Jones in the renowned musical, Cats. His high energy, on stage and in life, immediately flung him through the doors of ACT for its latest and boldest production, The Ringer.
---
Sebastian Weber
Director
Sebastian was born and raised in the beautiful south-east of the Saarland. In his free time, Sebastian studies English and Music and will one day find himself on the other side of a classroom. He is an avid singer and instrumentalist and travels the Saarland and the neighboring regions to give concerts and share his passion for music and musical theater with others. After giving his directorial debut with "A Bad Year For Tomatoes" last year, he also directed "Things My Mother Taught Me" and "The Doctor Will See You Now". He greatly enjoys telling people what to do and how to do it and is thus massively enjoying the director-thing, his heart, however, beats for being on the stage rather than just sitting in front of it. This is his eighth production with ACT.
---
Daniel Büffel
Technical Director
Daniel is from Zweibrücken and works as a mechanical engineer. He had his first active encounter with ACT while working as stage photographer for Shakespeare in Hollywood. Now he's also doing sound and lights. Daniel wants to thank his wife and the cast and crew of ACT for letting him enjoy the time with them. This is Daniel's ninth production with ACT.
---
Mara Becker
Stage Manager
Mara is from Saarlouis and is currently studying art history and English at Saarland University. Since kindergarten, she has been involved in several theatre and film projects. Mara loves acting, but she is also interested in working backstage. That is why she also writes and directs her own short films in order to express her own ideas. This is her second time with ACT, but her first time working backstage, which is just as exciting as being on the stage.
---
Alexander Neu
Cinematography
Alex is from Beckingen, Germany. He is has finished his apprenticeship as a media designer last year and is now looking forward to study cinematography. Being the aspiring dorky camera guy he is, he produced the intro video for last year's "Things My Mother Taught Me" and also did this year's intro video. He has worked together with several actors from ACT in his short films and was always blasted by their kindness and outstanding performances.
---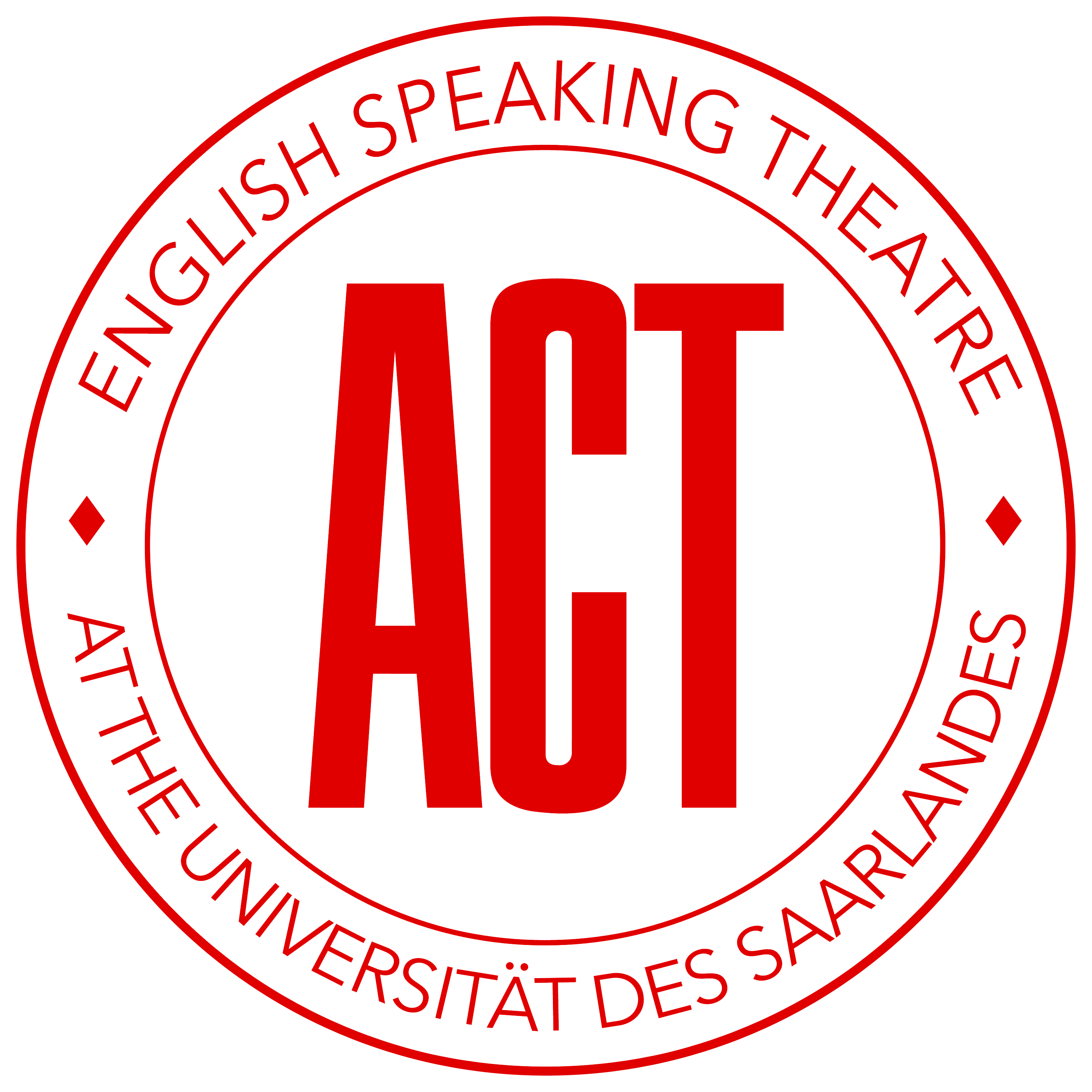 Auditions
Get In On the ACT!
We have auditions once every semester. If you want to get a part, you will have to come and audition for that particular show. If you want to be on our Audition Mailing List (AML) so you can be informed of auditions, please send us an email by clicking on this link directly (subject line will be added automatically):
---
What do I need to know?
We usually rehearse once a week. We also schedule several rehearsals on selected weekends, and expect you to attend all tech and dress rehearsals.
Do you have more questions?
---